North Highland Park is now open — see news stories and photos >>>

North (formerly New) Highland Park is a new park located at the northeast corner of St. Charles Place and North Highland Avenue. The plan for North Highland Park features bio-friendly open design, open green space and a rain garden. Neighborhood meetings will be held to discuss features desired such as lighting, landscaping details, fencing and seating. We still have significant funds to raise to pay off the debt on this land. Please contribute today or buy a brick!
In 2011, a matching grant of $50,000 was also awarded to Virginia-Highland Conservation League from Park Pride's 2011 Community Grant Program! The Virginia-Highland Conservation League is the 501(c)(3) non-profit subsidiary of the Virginia Highland Civic Association, which has been doing fundraising to support Orme and New Highland Parks since early 2009. We are absolutely thrilled to receive this grant, as it will enable us to begin construction of our plans in June 2011.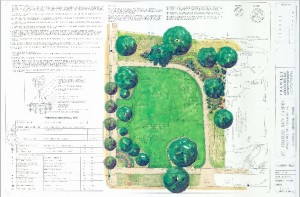 North Highland Park plan (click to enlarge, opens in new window)