Preservation and History Committee Mission: Identify, promote and preserve the historic features and defining qualities of Virginia‑Highland.
If you love history, this neighborhood's got it. Join our committee and learn more about Virginia‑Highland: preservation@vahi.org.
Preservation and History News
Video based upon the book "Images of America: Virginia-Highland" by Karri Hobson-Pape and Lola Carlisle. It was first shown at the 2012 VHCA annual meeting as part of the celebration of the 40th anniversary of the civic association. Once you click the arrow to play, you can then watch it full-screen by clicking the square icon in the bottom right of the video.
Historical development maps
Browse the collection of Virginia-Highland Historical Development Maps, original plat maps (1890s through 1930s) from your section of Virginia-Highland.
See also our historic maps page
Design Reference for Renovation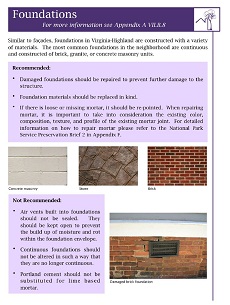 A design reference for renovation of Virginia-Highland home styles and types was created by students in the Georgia State University Heritage Program. This reference material is provided as an aid and in no way provides enforceable city codes.
Contents include: descriptions of architectural styles (bungalow and 10 others); foundations, materials, doors, windows, roofs, additions, setbacks, massing and scale, appurtenances, landscape strips, sidewalks, walkways, fences, retaining walls, streetscapes… etc.!
Download here (very large PDF file, 26 MB)
History of Virginia-Highland
National Register of Historic Places – Virginia-Highland's application containing detailed description of architectural styles and contributing buildings. Low-res b/w photos are in this document (17.8 MB, PDF); we plan to upload the original quality color photos in the future.
Virginia-Highland (Images of America) – book by Karri Hobson-Pape and Lola Carlisle
Available online from Amazon, Arcadia Publishers, Barnes & Noble

Available locally at
— San Francisco Coffee
— Intown Hardware
— Highland Hardware
— Barnes & Noble @ Emory
Photo Gallery
coming soon
Useful Links
Also see our links to historic maps on our Historic Maps page
Articles of Interest
Coming soon

Sign up for emails from the VHCA Preservation & History committee
Drop us a line at preservation@vahi.org