Events for Residents
On the Friday preceding Summerfest (June 3, 2016 for this year's festival), events are held especially for Virginia-Highland residents: a parade, picnic dinner and outdoor movie.
Neighborhood Parade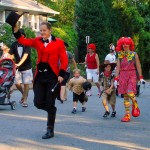 The theme for the 2016 community parade will be Rio Olympics! Plan now to get creative and dress-up. We'll have plenty of prizes on hand for kids and families with the most fun and imaginative costumes. Prize categories include 1st, 2nd, and 3rd place prizes for both kids and adults and a 1st place prize for family – plus a SPIRIT AWARD for the most creative house/group cheering on the parade.
The parade route begins at the top of Drewry (meet at Ace Hardware), then down Drewry, right onto Barnett, proceeding/ending straight into the dinner line at Inman Field (about 0.6 miles). Parade participants and onlookers can get dinner tickets at the top of the parade route, making it easier to participate/watch, then go straight to the dinner.
Meet at Ace Intown Hardware (Drewry/N. Highland across from CVS) on Friday, June 3, 2016, at 6:30 pm to check in. The parade will start PROMPTLY at 7:00 pm. The parade will end up at the neighborhood dinner at John Howell Park (eastern section near Barnett) where prizes will be awarded.
Dinner and Outdoor Movie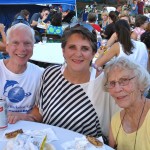 The community/volunteers dinner and outdoor movie will be held on Friday, June 3, 2016, starting at 7:30 pm. The usual awesome cook-out fare will be provided by Atkins Park. This year the community dinner and movie will again be located on the grassy area on the eastern edge of John Howell Park, near Barnett St. You must bring ID to verify Virginia-Highland residency.
Movie: This year's outdoor movie will be Rio 2, an animated adventure-comedy rated "G". Macaws Blu, Jewel and their 3 children leave their domesticated life in Rio for a journey to the Amazon to explore the world and their rain forest roots. Once there, the family encounters many characters. Blu tries to fit in and meets his father-in-law.
The movie is free and will begin at dusk (usually around 8:45 PM) inside John Howell Park.
Acoustic Street Party: The acoustic music will be located at the Virginia-Highland Island on Friday, June 3, 2016 from 8:00pm to 11:00pm and on Saturday, June 4, 2016, from 9:00pm to 11:00pm