Events for Residents
On the Friday preceding Summerfest (June 5, 2015 for this year's festival), events are held especially for Virginia-Highland residents: a parade, picnic dinner and outdoor movie.
Neighborhood Parade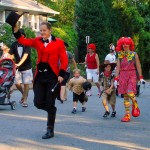 The theme for the 2015 community parade is "Rock Stars and Divas". Plan to get creative and dress-up. We'll have plenty of prizes on hand for kids and families with the most fun and imaginative costumes. Prize categories include 1st, 2nd, and 3rd place prizes for both kids and adults and a 1st place prize for family – plus a SPIRIT AWARD for the most creative house/group cheering on the parade.
The parade route begins at the top of Drewry (meet at Ace Hardware), then down Drewry, right onto Barnett, proceeding/ending straight into the dinner line at Inman Field (about 0.6 miles). Parade participants and onlookers can get dinner tickets at the top of the parade route, making it easier to participate/watch, then go straight to the dinner.
Meet at Ace Intown Hardware (Drewry/N. Highland across from CVS) on Friday June 5, 2015, at 6:30 pm to check in. The parade will start PROMPTLY at 7:00 pm. The parade will end up at the neighborhood dinner at the Inman School field (corner of Virginia & Greencove), where prizes will be awarded.
Dinner and Outdoor Movie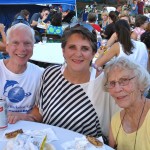 The community/volunteers dinner and outdoor movie will be held on Friday, June 5, 2015, starting at 7:30 pm. The usual awesome cook-out fare will be provided by Atkins Park with delicious desserts being offered by Murphy's. The location of the dinner and movie will be announced soon. You must bring ID to verify Virginia-Highland residency.
Movie: This year's outdoor movie will be Big Hero 6. Robotics prodigy Hiro (Ryan Potter) lives in the city of San Fransokyo. Next to his older brother, Tadashi, Hiro's closest companion is Baymax (Scott Adsit), a robot whose sole purpose is to take care of people. When a devastating turn of events throws Hiro into the middle of a dangerous plot, he transforms Baymax and his other friends, Go Go Tamago (Jamie Chung), Wasabi (Damon Wayans Jr.), Honey Lemon (Genesis Rodriguez) and Fred (T.J. Miller) into a band of high-tech heroes. The movie is free and will begin at dusk (usually around 8:45 PM).
Acoustic Street Party: The acoustic music will be located at the Virginia-Highland Island on Friday, June 5, 2015 from 8:00pm to 11:00pm and on Saturday, June 6, 2014, from 9:00pm to 11:00pm
Pre-register for the parade
Don't forget to meet at Ace Hardware no later than 6:30pm on Friday, June 5, 2015. Be sure to bring your ID verifying residency in Virginia-Highland in order to receive dinner tickets.