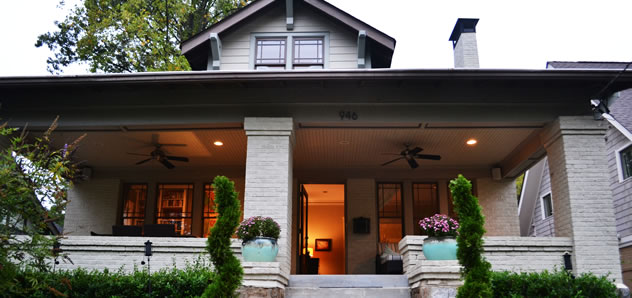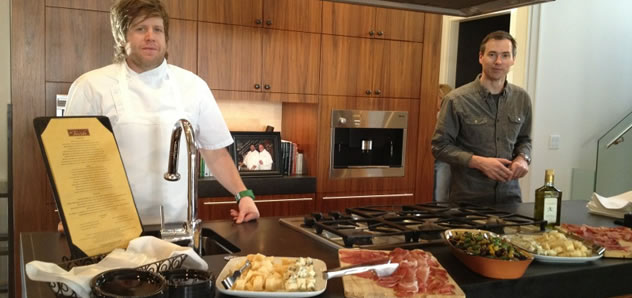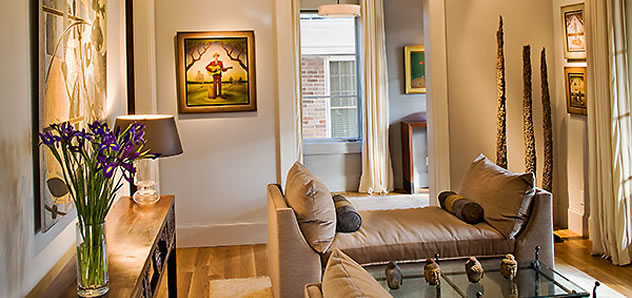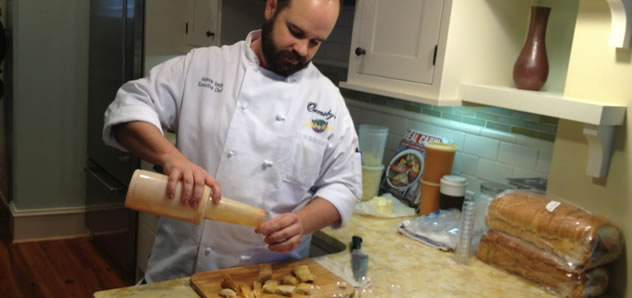 Virginia-Highland Tour of Homes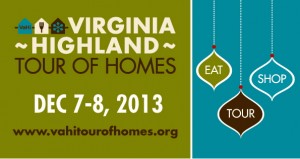 The Virginia-Highland Tour of Homes is a vibrant, flavorful 2-day home tour and food tasting event showcasing the beautiful homes of the Virginia-Highland neighborhood and tastings by local restaurants.
This year's tour dates are:
Saturday, December 7, 2013
Sunday, December 8, 2013
Presenting the 2013 Virginia-Highland Tour of Homes!
The 2013 Virginia-Highland Tour of Homes is right around the corner and the TOH committee has been working hard to make sure this year's event is a fun and successful one. In addition to nine outstanding restaurants, there are eight spectacular homes on the tour and we just can't keep it a secret any longer so here's a sneak peak at this year's lineup.
Click here to read more from VaHi TOH Chair Angelika Taylor and see the spectacular homes on this year's tour.
Click here to visit the official 2013 Tour of Homes website.
Virginia-Highland Tour of Homes Recognizes 2013 Sponsors
On behalf of the entire neighborhood, the Virginia-Highland Civic Association extends a special thank you to our 2012 Tour of Homes sponsors. The generous support of these sponsors helps ensure a successful event and provides important funding for various neighborhood projects including parks improvements, safety, sidewalk and traffic concerns, planning and preservation efforts, graffiti removal, communication and ongoing support of our neighborhood schools.
This is the 19th anniversary of our tour and this year we feature an impressive line up of eight beautiful homes, each home paired with delicious menu samplings from local restaurants. Restaurants participating in this year's tour include American Roadhouse, Atkins Park, D.B.A. Barbecue, El Taco, Fontaine's, Highland Tap, La Tavola, Marlow's Tavern, Noche, Rosebud, and Timone's. San Francisco Coffee is generously donating coffee for the ticket pickup/volunteer check-in area on Saturday only.
Our local sponsors help make the Tour of Homes an outstanding success year after year. Please support them with your patronage.
Presenting Sponsor
Muffley & Associates Real Estate
Premiium SPONSORs
Barking Hounds Village, Heritage Bank
Major Sponsors
Artisan Custom Closets, Distinctive Appliances and Vacuums, Doggone Handy Home Rebuilders, Founders Kitchen and Bath, Karen Hott Interiors, Morningstar Mini-Storage, Natalie Gregory Home – Keller Williams, Remax Metro Atlanta – The Zac Team, Rinehart Design Group, The Great Frame Up, The Intowners – Sadlier, D'Aprile & Bade, Traditions Tile/Stone/Glass, Urban Body Studio, Warren City Club, and Whole Food Market – Ponce
Benefactor Sponsors
Atlanta INtown Newspaper, CR Home USA, Copper Sky Renovation, Daltile, Faith Flowers, Night Vision Outdoor Lighting Atlanta, Phoenix Renovations Group, RLS Construction, Twelve Boutique and Flowers and YWCA Greater Atlanta
Neighborhood Sponsors
Abraham Properties, Allied Fence Company, Allstate Insurance – William Kelly, Antiquity Architecture and Design, Bla Bla Kids, Design BH Architecture, Cindy Gilmore Hair Studio, Ellis Landesign, Festivity, Intown Hardware, Jones Pierce Architects, Judith Bright Jewelry, Kitsy Rose Public Relations, Moore Farms and Friends, Neptune Foods, New York Butcher Shoppe, Nonies Garden, Olde Savannah Flooring, Peace by Piece Organizing, PSB Studio Architecture, Stanton Law LLC and Ten Thousand Villages