Note: Images in this article were taken from http://www.jamiecalkin.com.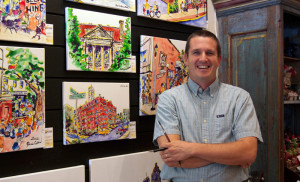 Athens-based artist Jamie Calkin is kicking off a month-long exhibit at San Fransisco Coffee, 1192 N. Highland Ave. in VaHi, with a meet and greet at the cafe on Friday, April 1 from 7 to 9 p.m.
Jamie is a science teacher turned full-time artist who paints with ink and watercolor in the plein air style. Jamie loves to paint street scenes and buildings, and one of his most notable pieces is a 64-foot long mural in the University of Georgia's student center.
Jamie regularly produces commissions, prints, murals, and other forms of art for his clients, both in Athens and elsewhere. Recently, he completed a series of Atlanta paintings which will be on display at San Francisco Coffee Roasting Co. in April. He hopes you'll stop by to check out his work.
To learn more about Jamie and to view his work, visit http://www.jamiecalkin.com/ and  https://www.facebook.com/events/807199999424081/.