David T Howard School Opening in July, 2020 to replace Inman Middle School; many other cluster changes coming, too, including new athletic complex
By Matt Westmoreland, District 3 Representative, Atlanta Board of Education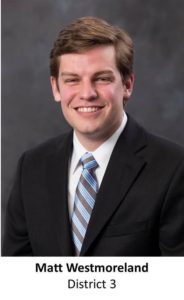 Last month, APS Superintendent Meria Carstarphen met with the Grady Cluster to update the community about the district's plans to address capacity challenges within the cluster.
Over the next five years, the Grady Cluster will see $113 million capital investment from the school system— a $52 million renovation and addition at the David T. Howard building to become the cluster's new middle school, a $33 million renovation and addition at Grady High, an $8 million investment for additional field space, and a $20 million renovation of Morningside Elementary.
New athletic complex
In addition, a sorely needed new athletic complex will provide practice fields primarily for Inman and Grady. Design for that project started in January 2017 and will finish in June 2017. Field construction will be from October 2017 to June 2018.
There will be an interchangeable softball/baseball field, a football/lacrosse/soccer field, locker rooms, public bathrooms, a concession stand, and a parking lot. Inman and Grady will always have first priority. After that, it would be open to other APS schools.
Funding
All of the projects above will be funded through the next Education Special Purpose Local Options Sales Tax, which will start in July 2017. Once that funding was secured through a vote by Atlanta residents last summer, the school system was able to move forward with its various planning processes.
Transformation of Howard
The district has initiated "pre-design activities" at the Howard site on John Wesley Dobbs Ave to prepare for the design phase. APS initiated a site survey and environmental assessment and began removing hazardous materials from the site. At the same time, the district has been working to select an architect for the project and has identified Stevens & Wilkinson/Lord Aeck Sargent with whom to execute a design contract. Under current plans, construction is scheduled to start in August 2018 and be completed by July 2020. Once completed, the building will have a capacity of 1,450. Current Inman enrollment sits just below 1,100.
Renovations at Grady High School
While work is taking place at Howard, the Grady campus will also undergo an $11 million renovation and see the construction of a new $22 million wing that will include 18 classrooms, 3 science labs, and a new administrative suite.  The expected completion date is July 2021
Temporary relocation of Morningside Elementary School
After the middle school moves to Howard in July 2020, Inman will house Morningside Elementary during that building's two-year renovation. During that time period, the district will help lead a conversation within the cluster about how best to use the Inman building for additional elementary capacity.
Groups spearheading the changes
As with all projects, a design committee – composed of the school principal, architect, PTA representative, GO Team representative, faculty representative, school board representative, community member, and other district staff – will be commissioned for the Howard, Grady, and Morningside projects.
For more information
Visit http://www.atlantapublicschools.us/schoolchanges and click "Grady Cluster". Or feel free to e-mail me at mwestmoreland@atlanta.k12.ga.us or call at 404.408.0980