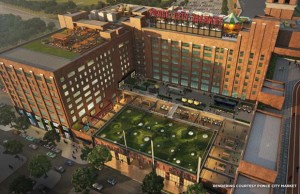 We have learned that Ponce City Market's Central Food Hall, which opens this Fall, has 19 confirmed restaurants. (Some of these will actually open a little earlier than Fall—it's a on a rolling schedule). The full list is below, where you will see quite an emphasis on ethnic foods. Some restaurants will also offer raw market ingredients for guests to purchase and take home to prepare themselves.
Dub's Fish Camp by James Beard Award winning chef-owner Anne Quatrano.  The casual-style fish shack opening in fall 2015 will feature a raw shell counter, housemade sandwiches and steamed fish bowls.
Chef-restaurateur Linton Hopkins of Atlanta's Holeman & Finch and Restaurant Eugene will debut his latest concept, H&F Burger, in fall 2015. At 1,543 square feet, the restaurant will provide a glimpse into the world of the famous H&F burger and fries by the James Beard Award winning chef.
Adjacent to H&F Burger, chef Linton Hopkins introduces his latest concept, Hop's Chicken, exclusively to the Central Food Hall. The menu will feature Springer Mountain chicken, fried-to-order, from-scratch biscuits and a selection of sides including coleslaw, macaroni and cheese and seasonal salads.
Jia is an authentic Szechuan concept from the operators of Tasty China and Peter Cheng's Tasty China 2, Dahe Yang and chef Jiguo Jiang. The 1,950 square-foot space will debut in summer 2015.
Ponce City Market will play host to the first brick-and-mortar location of Honeysuckle Gelato from chef-owner Wes Jones. To add to the unique character of the Atlanta-based company, the Ponce City Market location will introduce new products to the city such as gelato popsicles, sandwiches, floats and more. The 182 square-foot store is expected to open in August 2015.
Chef Hannah Chung is bringing artisanal kimchee, sauces and Korean steamed buns to a 233 square-foot space named Simply Seoul beginning August 2015.
Boti Walla is an authentic Indian streetfood concept from James Beard Award semifinalist Meherwan Irani of Chai Pani. Bringing the spice of India to Ponce City Market, Boti Walla will feature sizzling tandoori and regional specialty kebabs as well as retail offerings including custom spice blends, chutneys, pickles, to-go lunches and more. The counter-service restaurant will occupy 1,625 square feet in the Central Food Hall.
Created by Rawesome Juicery founders Chantel Jiroch and local artist Kawai Laurencin, Lucky Lotus will offer natural cold-pressed juice, superfood smoothies, energy enhancing shots and freshly prepared meals daily.
Minero is a casual Mexican influenced concept by Neighborhood Dining Group and James Beard's 2010 "Best Chef Southeast" winner and Charleston-based chef Sean Brock. The second Minero location, Brock introduced the concept in Charleston in 2014. This location expands on the original concept adding raw ingredients including fresh Mexican spices, chili peppers, homemade salsas, fresh tortillas and beans to the market. The innovative street food-style taco menu is inspired by Brock's own love of the Mexican classic while the cocktail offerings feature a variety of mezcal and tequila-based libations.
Adding to the Central Food Hall's fresh market options, Bellina will join the property in mid-2015. A gourmet Italian market, Bellina will offer fresh ingredients and slow-cooked foods for guests to enjoy on-site and at home.
Strippaggio is an Atlanta-based purveyor of small-batch extra virgin olive oils, vinegars, gourmet salts, spices and culinary serving accessories carefully sourced from around the U.S. Founded on a passion for high quality, artisan ingredients, the shop at Ponce City Market will be Strippaggio's second location in the city.
Popular Atlanta restaurateur Guy Wong of Miso Izakaya will bring his latest concept, Ton Ton, to the Central Food Hall in August 2015. Japanese ramen, yakitory and sushi will round out the menu with noodles, rice and other Japanese ingredients available for purchase.
Farm to Ladle is a European café and farmstand selling a selection of locally sourced products including raw vegetables, fresh herbs and spices. Additionally, Farm to Ladle's café will offer soups, salads and sandwiches.
The Spiller Park Coffee is the latest concept from James Beard Award-winning chef and Georgia restaurateur Hugh Acheson and Dale Donchey, formerly of Steady Hand Pour House. Located in the center of the food hall, this kiosk will offer freshly brewed artisan coffee, espresso and tea, from-scratch baked goods and packaged ground coffee to enjoy at home.
The Mercury opens on the second floor of the Central Food Hall from the owners of the popular Decatur bar and restaurant The Pinewood. This establishment captures the spirit of the classic mid-century American cocktail culture and will be open lunch, dinner and cocktail hour daily.
The first of its kind in the U.S., Biltong Bar comes to Ponce City Market from restaurateur Justin Anthony, owner of South African-inspired concepts 10 Degrees South and Yebo. Biltong Bar will feature organic, all-natural beef jerky and other specialty jerky meats. In addition to a retail shop, the counter-service restaurant will also offer gourmet pies, salads, craft beer, cocktails and a full wine list featuring a variety of South African blends.
18.21 Bitters opens as a Prohibition-inspired shop dedicated to providing the necessities to craft a better cocktail.  The kiosk will sell handcrafted premium bitters, syrups, tinctures, shrubs, old fashioned tonic, ginger beer and craft cocktail mix designed to elevate any beverage.
El Super Pan is the latest brainchild of celebrated Atlanta chef Hector Santiago. An ode to Santiago's popular pop-up sandwich shop of the same name, Super Pan will offer Latin-inspired sandwiches, baked goods and hot plates by day with Latin-inspired small plates at night. This 757-square-foot outpost will be located at an entrance of the Central Food Hall.
Marrakesh, named after one of the capitals of the ancient spice routes, offers regionally-inspired dishes including seasoned meat kebabs, freshly made hummus and tahini, a variety of regional spices, cheeses and fresh pita breads made daily. The concept is the brainchild of the owners behind Fuego Mundo in Sandy Springs, one of Atlanta's only completely kosher restaurants. The approach at Ponce City Market will not be kosher, but will follow the same principles of fresh and locally sourced ingredients throughout.
More details about developments at Ponce City Market will be covered in upcoming editions of The Voice.