By Robin Ragland, VHCA Board Member, and Lola Carlisle, Member of the VHCA Preservation Committee
There's a strong tradition of giving in Virginia-Highland during the month of December – especially when it come to the Fire Station 19 restoration project. 
This year's breakfast at Osteria 832 raised $5,000 for the fire station, making it the number one beneficiary of Rich Chey's restaurants' giving.  This brings their 14-year total amount of funds raised for the station to $55,000!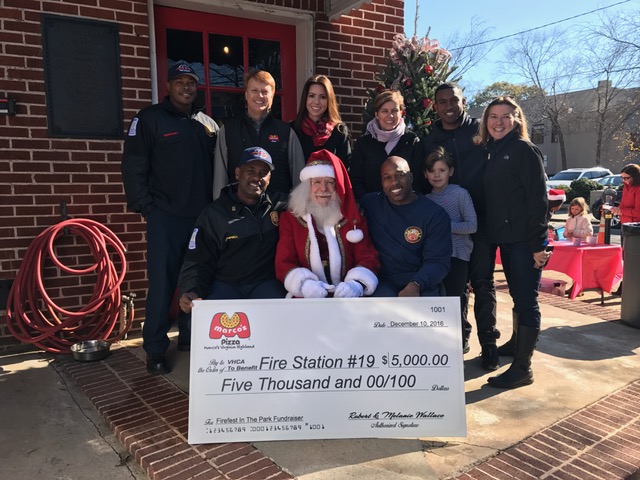 Marco's Pizza sponsored FireFest in October and raised $5,000 for Station 19. Thanks to Marcos owners, Robb and Melanie Wallace (pictured above on the back row second and third from the left) who brought their larger-than-life donation over during Santathon. The firefighters pictured are F.F. Kinan Humphrey (back row, left), F.F. Chris Knott (back row, 2nd from right), Cpt. Quentin Campbell (front row, left), and Sgt. Germaine Stringer (front row, right).  
We also just wrapped up our 3rd annual and most successful Santathon, presented by Tailfin Marketing. This year's fundraising event raised an additional $4,000 for Fire Station 19.
These funds will be added to those already collected for the restoration project, and there will be additional events in 2017, such as the Morningside Mile on March 16.  However, there is still a need for more money – about $15,000 more is needed.  
Did you know that you can make a tax-deductible donation to VHCA's Virginia-Highland Conservation League (VHCL)?  Your money will go directly to neighborhood projects such as the Fire Station 19 project, local park improvements, and payments on the loan for our very own North Highland Park.
You can mail a check (made out to the Virginia-Highland Conservation League) to VHCA at P.O. Box 8401 Station F, Atlanta, GA 31106. You can also make an online donation by clicking on the Donate button on the main page at vahi.org. A letter confirming your donation can be mailed to you if you would like to receive one.
Reach out to vhcl@vahi.org if you have any questions.