Directions
Summerfest is located on scenic and historic Virginia Avenue between North Highland Avenue and Park Drive.
Google Your Transit Directions
We encourage you to take public transportation if you can. The mystery of MARTA is unveiled because now Google Maps will easily calculate for you exactly which MARTA services will deliver you to Summerfest's door!
Choose a link below for transit directions to a Summerfest entrance
On Google Maps, select "Get Directions"
Select the transit icon (train)
Click "Get Directions"
MARTA rail + bus:
From MARTA rail station for athletic types: (1.5 miles, about a 30 min. walk)
Take MARTA rail to Midtown Station
Walk east on 10th Street about 1.5 miles, passing alongside Piedmont Park, until 10th St. ends at Monroe Dr.
Turn right on Monroe Dr., then left at the first traffic light onto Virginia Av.
Walk up Virginia Av. until you enter Summerfest.
Cycle to Summerfest and Park Your Bike for Free
For 2016, Atlanta Bicycle Coalition will again provide free valet bike parking for attendees who cycle to Summerfest. Bike to the festival and rest easy knowing your ride will be waiting for you when you're ready to leave. The bike valet corral will be open Saturday 10 AM – 11 PM and Sunday 10 AM – 6 PM and will be located in the fenced-in Field of Dreams adjacent to the festival's western entrance on the southwest corner of Virginia Ave. and Ponce de Leon Pl. ABC volunteers will be manning the valet service. Donations will be gratefully accepted.
Drive and Park
Basically, get to the center of Virginia-Highland the best way you know how. Map of the area or turn-by-turn directions from your location: Google Maps, Bing Maps, Mapquest.
Parking
Festival attendees can park for $10 at the church lot below, during times indicated.
Grace Lutheran Church: 1155 North Highland Ave.
Saturday, starting at 9 a.m.
Sunday, starting after church services at 1 p.m.
This church is within easy walking distance of the festival.
Roll-the-dice – There is a limited mix of free parking lots, paid parking lots,
and designated on-street parking. Beware that parking is always tight for Summerfest.
Police will be enforcing parking rules and regulations.
Event Map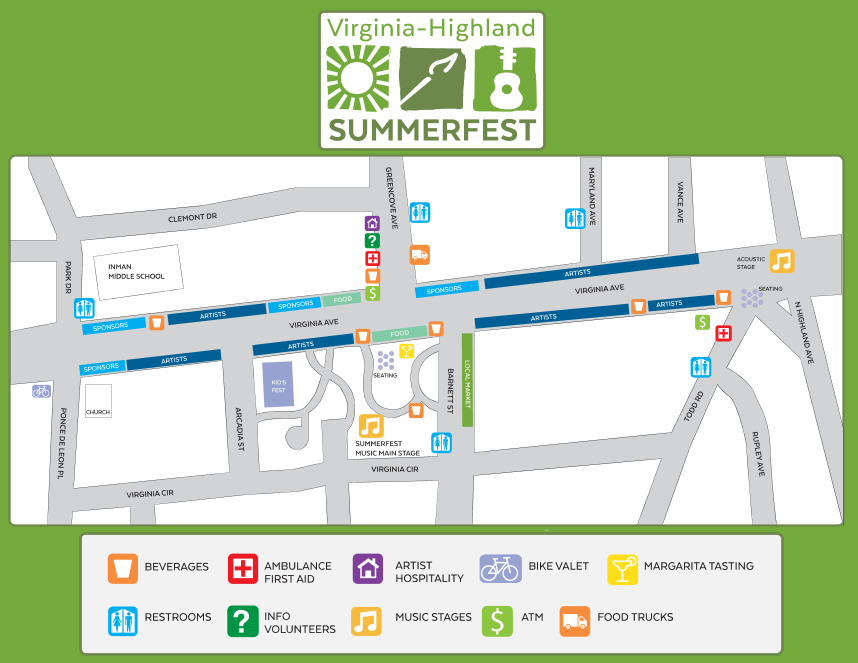 Click to enlarge