Summerfest Events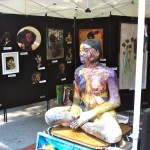 Artist Market
The juried Summerfest Artist Market is quickly becoming Atlanta's premiere art show, specializing in fine, folk, and unique art. You can find original art in many price ranges and media, including: Painting, Photography, Clay, Metal, Stone, Wood, Jewelry, Glass, Textiles, and Mixed Media. Visit our Artist Market page for more information.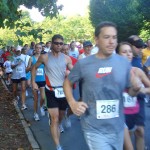 5K Road Race
5K:  This year's Summerfest 5K Road Race will take place the morning of Saturday June 6 and will feature 1,500+ runners winding their way through the streets of Virginia-Highland. The race, which is now an official qualifying race for the Peachtree Road Race, features electronic chip timing and runners are encouraged to register for the race in advance (although this year race day registration will be available). This race often closes out quickly, so we encourage early registration.
Click here for more information or to register for the race.
Race Packet Pick-Up:
Pre-registered 5K Road Race participants can avoid the crowds and pick up their race number and t-shirt early. Race packets can be picked up at Phidippides at Ansley Mall on May 29-30 and June 1-3 (no packet pickup at Phidippides on June 4). Packets can also be picked up at the Virginia-Highland Church, 743 Virginia Ave. (across from Inman Middle School) on Friday, June 5 from 4:30 – 7:30 PM (packet pick-up only, no race registration).
Race day packet pick-up on June 6 (6:30 – 7:30 AM in Yeah Burger parking lot, 1017 N. Highland Ave) is for out-of-towners or emergencies only. Local runners are encouraged to take advantage of early packet pick-up.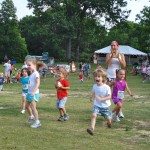 Tot Trot
After the 5K Road Race (starting around 9:15 AM), children 5 and under can run, waddle or crawl to the finish line of the Tot Trot which will be held this year on the lawn of the eastern section of John Howell Park (near Barnett). Every child receives a blue ribbon and a t-shirt for participating. Registration ($10 per child) is on-site, day-of-race, starting at around 8 AM on the grass on the eastern side of John Howell Park between where the statuary is and Barnett St.
Click here for more information or to register for the Tot Trot.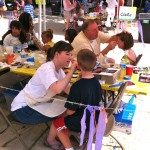 Kidsfest
For 2015 Kidsfest will be located in the middle and western sections of John Howell Park, including the area where the sand volleyball courts are. Kidsfest features unique games, crafts and activities for children of all ages, many of which are free. Times are Saturday, June 6, 2015 (10 am to 3 pm) and Sunday June 7, 2015 (10 am to 3 pm).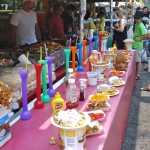 Food
Summerfest always features a range of delicious food from an array of festival vendors and local restaurants. A variety of non-alcoholic and alcoholic drinks are available throughout Summerfest.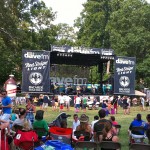 Music Stage
The Virginia-Highland Summerfest Music Stage will feature a variety of renowned local musicians along with nationally acclaimed singer-songwriters. For 2015, the Music Stage will be located on the lawn of the eastern section of John Howell Park. Click here to review the 2015 lineup of performers for Saturday and Sunday.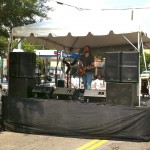 Acoustic Stage
The Acoustic Stage & Street Party will be held near the triangle Island at the intersection of Virginia and N. Highland Ave.'s on Friday, June 6, 2015 from 8 pm to 11 pm and on Saturday, June 7, 2015 from 9 pm to 11 pm. Come on out to enjoy a variety of acoustic acts, enjoy a tasty beverage and keep your Summerfest experience going.
Late Sunday morning, the Acoustic Stage spotlight will play host to two fun and unique groups featuring young performers from our area. Come on out and enjoy:
Performers from Eclectic Music: 10:00 AM
Irish Dancing with Burke Connolly Dance: 11:00 AM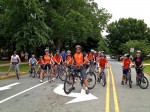 Warren Bruno Summerfest Celebration Ride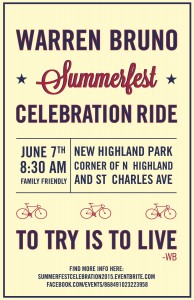 Come join the 2015 Annual Warren Bruno Summerfest Celebration Ride to honor a man who enriched the lives of so many in our community. Warren was a founder of Virginia-Highland Summerfest and an avid cyclist, so this tribute has been created to remember the man who never missed a chance to bring family, friends, and community together. This neighborhood ride is for all skill levels, so bring the whole family. All proceeds benefit Atkins Park Cycling Team as they raise money for the Leukemia Lymphoma Society (LLS) in Warren's honor.
Register: http://summerfestcelebration2015.eventbrite.com/
Additional Ride Details:
9.5 mile loop (once or twice) and 20 mile loop options.
Registration is required: 

http://summerfestcelebration2015.eventbrite.com/

Fees: $5/child (under 18), $20/adult (charitable donation)
All proceeds benefit LLS. Additional donations welcome.
Number pick-up / sign in begins at 7:00 a.m. on June 7.
ALL RIDERS MUST BE REGISTERED AND HAVE A NUMBER TO PARTICIPATE!
Please bring your own water bottle. Water re-fills and food will be provided along the route.
Ride leaders and markers will guide the route. You do not need to know the route.
When: Sunday June 7, 2015, 8:30 a.m.
Where: Cyclists meet at North Highland Park, corner of N. Highland Ave. and St. Charles Pl.
Distance: 9.5 miles (one or two loops) or 20 miles
Who: Cyclists of all levels.
Organizers invite everyone to keep up with the latest details and join in the conversation at  https://www.facebook.com/events/868491023223958/.