"We envision a world where STEM leaders are heroes and role models." That's the start of the shared vision of the Grady High robotics team, also known as G3. Folks talk a lot about the incredible Speech and Debate team, or the great Journalism program, but did you know that Grady's G3 is one of the best robotics programs in the state?
Now in their 14th year, the program has grown from 10 students to over 50 with volunteer mentors from Georgia Tech, MailChimp, local engineering firms, and beyond. The team is more diverse than you might imagine with over 25% of the team being young women and almost 35% minority involvement. Glancing at the photo, you'll probably recognize many of the kids as Mary Lin alums. If you think robotics is a "boys club," know that this year's team captain is Hannah Prausnitz-Weinbaum from Inman Park.
So what exactly does a robotics team do? The primary goal is to design, engineer, and build a robot that can perform specific required tasks. In the past, the tasks have included scooping up items from the field, shooting items from an air cannon into a target, unloading gears from its own deck onto hooks and even climbing a rope! This takes many dedicated hours from teammates creating CAD drawings, using shop tools to create the robot, and programming the mainframe so that the robot can be "driven" by someone.
What about kids who aren't so technically inclined? Well, there's a NEO crew of students who represent the Non-Engineering Operations. This group manages the marketing of the team, maintains the website, handles social media, creates newsletters, scouts other teams at the competition, and develops the very important Team Spirit documents. A competition isn't just about having robots battle robots. Judges receive presentations from each team about how and why they operate, as well as what each robotics team does to serve their community. These are some of the most prestigious awards given at local, regional, and national competition.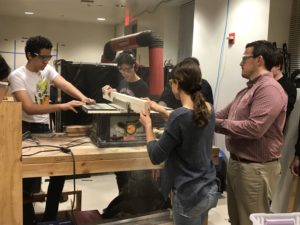 Not only do they travel to competitions (at least 3 a year), but G3 does a HUGE amount of community service each year. Through hosting the First Lego League competition at Grady, the G3 team brings together over 50 area elementary school Lego robotics teams for a day of challenges.
For the middle school students, G3 created Drones for Good. This is another day-long competition where students work with their mentors and teachers to develop an innovative drone-based solution to a problem in their community, state, or the world. Over 60 teams from across metro Atlanta build and fly their own K'Nex based drones. G3 students support and guide these teams as they put their drones through their paces at Grady.
G3 Robotics believes that it's not enough to promote STEM education alone. As they focus on building programs in each APS elementary, middle, and high school, they keep equity in mind. They continue to promote females, minorities, and the socio-economically disadvantaged in all their work. G3 hopes to build a stronger, healthier STEM community in Atlanta, and the world.
As part of the Atlanta Science Festival, held at Piedmont Park this year, G3 will be hosting a Drones for Good event in the Grady High School cafeteria on Saturday, March 10th from 9am – 2pm. The event is free and family-friendly, so come build your own drone and get a glimpse into this exciting STEM based program. Find the full #ATLSciFest schedule and event details here: http://bit.ly/AtlSciFest. To learn more about Grady Robotics visit the team website at www.G3robotics.com.
Team Members –
51
Drones For Good Teams –
60
Lego Robotics Events Hosted –
14
Female Team Members –
28%
Minority Team Members –
35%
College Graduation Rate –
99%
Community Service Hours –
6,263
Habitat for Humanity Builds –
4
Elementary Science Nights –
20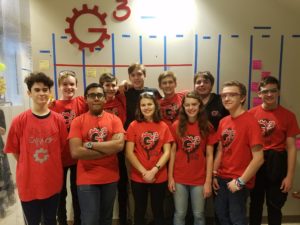 Past Mary Lin elementary students pictured are L to R: Diego Gonzalez, Forest Dynes, Swagatam Das, Deacon Baker, Karl Haddock, Cate Crutcher, Jack Labadia, Hannah Prausnitz-Weinbaum, Sam Castellano, Jake Willoughby, Owen Hawke
Article submitted byBoyd Baker