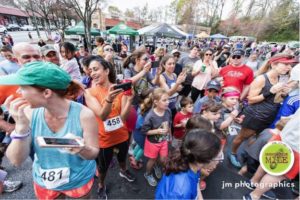 With warmer weather around the corner, swimsuit season can't be far behind. This year there is no better way to prepare than by getting in shape for the Morningside Mile, Sunday, March 25 at 2:00 PM. This year's race is bigger and better than ever, so register now to ensure your spot and t-shirt!
The exceptional one-mile race features cash prizes, drawing competitors from across the region. For 2018, we're adding chip timing to deliver more precise results and a new 'Just for Fun' Half-Mile to launch the after party. If you're not a competitive runner, there is still something for you. The race features several waves:
Competitive Runner—under 7-minute mile
Recreational Runner—more than 7-minute mile
Families & Walkers—more casual striders, families with strollers, kids under 15, and walkers
Just for Fun Half-Mile—this new category, created especially for kids and families will follow the police motorcycle after the last racers. Open to kids accompanied by an adult guardian, pets and bikes/scooters/strollers.
MLPA has joined with VHCA on the race and party that will raise funds to reinvigorate the North Highland Corridor through our historic neighborhoods. The race course has changed so that it follows North Highland from the start near the YWCA at 957 N. Highland to Morningside Village—times should be even more competitive over this gently rolling course with minimal elevation gain.
Not into fitness—no problem! The Morningside Mile has something for you too–immediately after the race we'll gather in the Morningside Village (1424 N. Highland) parking lot near Doc Chey's for an awesome ROCK THE BLOCK PARTY! Just follow the runners, decorated bikes, and strollers or meet us at Morningside Village for an awesome party to raise funds. There will be beer from our sponsors, Sweetwater Brewing, along with a Doc Chey's Noodle Eating contest, live music from My Friend Ian's Band, and activities for the entire family.
Volunteers are needed—in exchange for a two hour shift, all volunteers receive a free t-shirt so sign up now for the best slots!
MLPA and VHCA thanks the presenting sponsors, Engel & Voelkers and Homegrown Restaurants (Doc Chey's, Dragon Bowl, & Osteria); hosts Neighbor's Pub and Sweetwater Brewing; benefactors Fifth Group/El Taco, FIT Learning, JW Ayers Plumbing, Nightcap Food & Spirits (Fontaine's & Highland Tap) Pierce Chiropractic Center, Replenish, Sprouts Farmers Market, and The Great Frame Up; and contributors Atkins Park Tavern, Highland Real Estate, and Warren City Club. Please thank the businesses that support our neighborhood by visiting them often.