By David Brandenberger, VHCA Parks Committee Chair
We have all observed a spate of sidewalk and ADA corner ramp improvements in the neighborhood recently.  As we understand it, it is now city policy to install appropriate crosswalk markings wherever such improvements are made.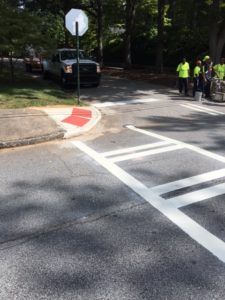 VHCA Board President Jack White and I encountered the Department of Public Works Marking Crew at work on this project on Virginia Circle and De Leon. For the curious, the material is thermoplastic colored white for visibility that is mixed on the spot at 500 degrees, applied to the street, and sprayed immediately with water to help it set.  Crosswalks need new treatment about every five years on side streets and – obviously – much more often on major thoroughfares. Peachtree Street crosswalks require an almost annual renewal, the crew suggests. Read this article to learn more about thermoplastic road markings.
Given the volume of sidewalk and road repairs we've experienced, Virginia-Highland clearly has a lot more new and re-markings coming.  Almost every intersection along Barnett meets the criteria.  If you know of a locale that needs treatment (or re-treatment), feel free to forward the location to safety@vahi.com, and we'll do our best to make sure it is on Public Works' list.
Posing in the photo below are Marking Crew members (L-R): Jonny Daniels, Kantrell Hays, Oscar Maddox, Dante Wheeler, and Leonard Sims.