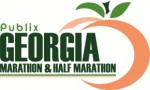 You'll want to plan your travel carefully the morning of March 17 as the Publix Georgia Full and Half Marathon races return to Virginia-Highland.
Organizers expect over 16,000 runners to participate this year. Both races will start and end in Centennial Olympic Park and all runners will pass through VaHi. Following is a list  of full and partial road closures and the times you may want to avoid these areas.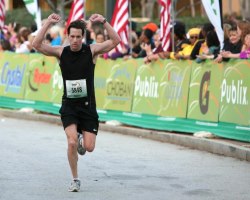 For more information on the Publix Full and Half Marathon races and the Luckie 5K race, click here.
7:13 – 9:30 AM (Half Marathon runners)
N. Highland Ave. (from North Ave. to Virginia Ave.):  All lanes closed to traffic; no roadside parking
Virginia Ave. (from N. Highland Ave. to Park Dr.):  EB lane only open to traffic
7:17 – 9:45 AM (Half Marathon runners)
Park Dr. (from Virginia Ave. to Piedmont Park bridge):  All lanes closed to traffic; no roadside parking
8:25 AM – 12:35 PM (Marathon runners)
Stillwood Dr. (from Briarcliff Rd. to Los Angeles Ave.):  EB lane only open to traffic; traffic must turn south on Briarcliff
8:30 AM – 12:45 PM (Marathon runners)
Los Angeles Ave. (from Stillwood Dr. to N. Highland Ave.):  EB lane only open to traffic; traffic must turn south on N. Virginia to Briarcliff
N. Highland Ave. at Los Angeles Ave.:  EB Los Angeles can turn south on N. Highland
Los Angeles Ave./Brookridge Dr. (from N. Highland Ave. to Elkmont Dr.):  EB lane only open to traffic; traffic must turn south on N. Highland
Elkmont Dr. (from Brookridge Dr. to Orme Circle):  EB lane only open to traffic; traffic must turn east on Crestridge
Orme Circle (from Elkmont Dr. to Park Dr.):  NB lane only open to traffic; traffic must turn east on Elkmont
8:35 AM – 1:00 PM (Marathon runners)
Park Dr. (from Orme Circle to Piedmont Park):  All lanes closed to traffic