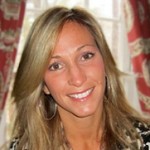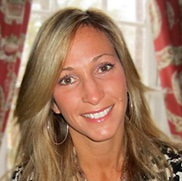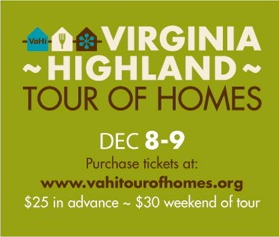 Let the count down begin! With only a few days left before this year's Virginia-Highland Tour of Homes, there's plenty of excitement and anticipation in the air for the weekend of December 8th and 9th.
Driving around the neighborhood you've probably noticed all the yard signs and banners. They're brand new this year and are really helping get the word out. The Tour of Homes website is live and full of great content and online ticket sales are increasing daily. Please visit www.vahitourofhomes.org for a preview of this year's tour homes. And if you're on Facebook, find us and like us – there's a lot of great information there, too.
This year's tour features eight inspiring homes including several turn-of-the-century bungalows expertly renovated in designer style; a 1920's Tudor Cottage reinvented for relaxed, luxe living; a contemporary masterpiece reminiscent of Frank Lloyd Wright's signature prairie style; and a fully-restored, historic bed & breakfast.
In addition, nine local restaurants – La Tavola, Atkins Park, DBA Barbecue, Murphy's, El Taco, Genki, Osteria 832, Pozole', and Noche – will be hosting food samplings on both tour days. I've seen their menus and they're all going out of their way to "show-off" their incredibly different offerings. The food is a serious bonus on this tour – you could easily consider it your appetizer and lunch for the day!
All our sponsors and home vendors are ready to market their goods and/or services as well. If you're planning to renovate, update or just gather great ideas for your home there will be so much eye candy and information available to you in a real home setting, not a showroom. I have files from many past VaHi Home Tours that I still refer back to and have used on my home.
Tour, Eat and let's not forget…SHOP!  All our local merchants are ready for tour goers as well. Stores are filled with new merchandise and shop owners are eager to help you with your holiday shopping. Several merchants are offering deals or coupons with your Tour Ticket Book. It will definitely be a great weekend to enjoy our "small town neighborhood" with a big city bustle and pace. It's the very reason many of us chose to make Virginia-Highland our home in the first place.
And for the frosting on the cake, how incredible will it be to enjoy live holiday caroling throughout the neighborhood by some of the most amazingly talented students from Grady High School? The sound of children's caroling always gets me during the holidays and I am so honored these kids will be sharing their gift with us this year.
OK – 'nuff said.  Proceeds from the Tour of Homes go toward funding the many important initiatives of the Virginia-Highland Civic Association so GET YOUR TOUR TICKETS TODAY! Tickets are $25 each prior to Tour and $30 day of Tour. You can get them conveniently online at www.vahitourofhomes.org or, starting the weekend before the tour, get them locally at Intown Ace Hardware (VaHi location), Aurora Coffee Shop or San Francisco Coffee Shop. So, make it a date weekend, a girls day out, a new family tradition or buy tickets as gifts and hand them out to your friends, family, clients etc. This event is rated A for All Audiences!
Here's to another successful event in our wonderful neighborhood!
Angelika Taylor – Chair, 2012 Virginia-Highland Tour of Homes