Do you follow the Tour of Homes on Facebook?  Many people have discovered a wonderful facet of the Tour that's been growing in popularity since its inception in 2014–giveaways from many of our sponsors.

Free tickets for the tour as well as a number of gift certificates for local businesses will be given away via the Tour's Facebook page up until the weekend of the tour.  For example, win tickets or a gift certificate from  Bla Bla Kids, Callie's Hot Little Biscuits, The Great Frame-up, Keller Knapp and Engineered Solutions of Georgia within the next couple of weeks.
CLICK HERE FOR THE 2018 GIVEAWAY SCHEDULE

Other giveaways include gift certificates to restaurants such as Alon's Market and Bakery, Atkin's Park, DBA Barbecue, Marlow's Tavern, Press & Grind, El Taco, Murphy's, The General Muir, Nowak's and Whiskey Bird.  Don't miss out on a chance to win certificates to local businesses such as ART BATH SOUL, Brickwork's Gallery, Dakota J's, Empire South and more! The sooner you starting following along, the more chances you have to win!  Be sure to 'Like' our Facebook page to be eligible to win. https://www.facebook.com/vahitour/.

Oh – and look who's flocking to the neighborhood for the Tour of Homes! You may see some of these flocks in various gardens around the neighborhood! Hopefully you'll enjoy our bit of whimsy as we remind everyone it's tour time.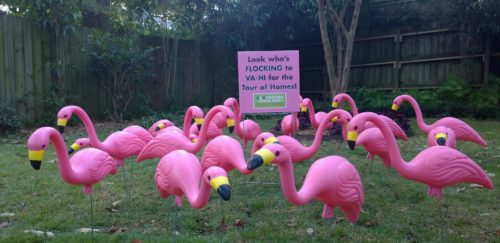 Please visit our special Tour of Homes website for more detailed information on the times, the homes, the sponsors and the restaurants. Click here for information on purchasing a ticket.
Article Submitted by Robin Ragland, Tour of Homes Chair