By Stephen Cohen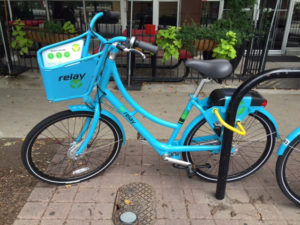 We've seen them around, those bright blue bikes with the basket on front. I saw a young couple the other day, each wheeling their blue bike from the Trader Joe's parking lot onto the BeltLine, and each with a Trader Joe grocery bag in their front basket. They lived in Midtown and told me they had rented a relay bike on Piedmont Road and ridden over to TJ to do their grocery shopping.
We're going to be seeing a lot more of those bikes. From the one relay station near the corner of 10th and Piedmont, we are going to be seeing as many as eight more stations in Virginia-Highland, Atkins Park, and Poncey-Highland. (The attached flyer shows the upcoming locations. These are subject to approval and zoning review).
What is Bike Share?
Bike Share is touted as a fun, affordable way to get around Atlanta. Hundreds of public bikes are available to rent for short rides. You can lock a Relay Bike at one of their hub stations or at any public bike rack. Cost is $8 an hour, or $15 a month with 60 minutes' daily usage, or $20 a month with 90 minutes' daily usage, or $25 a semester with 60 minutes' daily usage for students. Unused minutes roll over. So if you rent for an hour and only use 40 minutes, you have 20 minutes left to use another time.
You can use them for commuting, for errands, or to enable visiting friends and family to join you in toodling through Piedmont Park, onto the BeltLine, and around our pretty streets.
For more information, visit www.relaybikeshare.com.