From Football to the Restaurant Business
By Kay Stephenson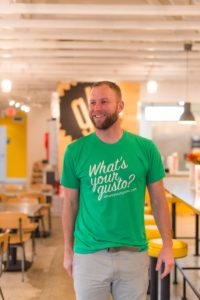 Nate Hybl (yes that Nate Hybl – Oklahoma Sooner quarterback, 2002 Rose Bowl MVP, and on the teams for the Cleveland Browns and Jacksonville Jaguars) is in the restaurant business. But not the type of restaurant you might usually associate with a former pro football player. You won't find him sitting at the bar entertaining his drinking buddies. You might find him taking your order, or bagging up some fabulous sweet potato chips. In fact, you might find him doing anything that needs to be done in a bustling family friendly restaurant that offers fast fresh food.
gusto! Means Bold Flavors and American Dreams
A self-described foodie and entrepreneur, when Nate was growing up in Hazlehurst, Georgia, there wasn't a lot of exposure to exotic and bold flavors. But about five years ago, that started to change. He set out to learn the restaurant business and worked every job he could find. In his spare time, he was experimenting in his own kitchen and trying out his creations on friends and family.
Inspired by the likes of Dale Carnegie and the best of Americana, Nate opened his first restaurant, named gusto! for those bold flavors and this quote –
"Today is life. The only life you are sure of… Get interested in something. Shake yourself awake. Let the winds of enthusiasm sweep through you. Live today with gusto."
That first restaurant opened in 2015 on Peachtree across from Piedmont Hospital. The second opened at 782 Ponce De Leon Ave in Virginia-Highland this past Summer.
Why Here? Why Now?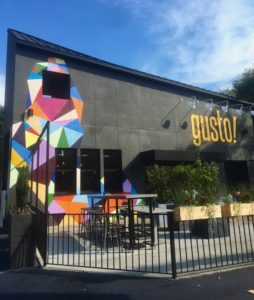 When asked why Virginia-Highland and why Ponce, Nate told me that he really likes the diverse culture of the area. He describes it as, "part family, part street, and somewhat in transition." The transition is clear as we see more people out walking and the major renovation happening across the street at the Clermont Hotel. He also notes the importance of Ponce to the landscape of the city. He located his first restaurant on Peachtree, the primary north/south thoroughfare in Atlanta. Many view Ponce as the primary east/west corridor.
How does a Restaurant Build Community?
As the team was finalizing the build-out of the Ponce store, they decided the building needed a tattoo! OK, a mural. They invited local artists to submit designs, and then invited the neighborhood to a Paint Party on Ponce. Participants made temporary art on big sheets hung on the building and voted on the top three artist submissions. The winner was Lee Arnett with his bold geometric design.
In the short time the restaurant has been open the team behind gusto has already sponsored spirit nights for Springdale Elementary, Inman Middle, and Grady High School and they are actively working with the Virginia-Highland Civic Association to identify other partnership opportunities.
What's Your gusto?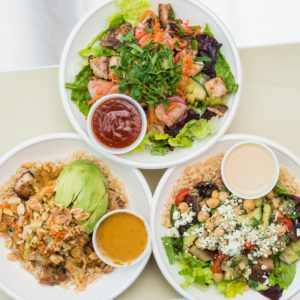 Nate and his team hope that the neighborhood will come to enjoy stopping in for a quick meal or carry-out order, or to hang out in the spacious dining area and outdoor patio. The food offers "better for you" options like salad and rice bowls or wraps topped with lean protein and a wide array of sauces and toppings that make for a unique and delicious taste experience. And they continue the family-friendly theme with a special menu for kids. Not to suggest that there isn't plenty to interest adults, including a good selection of local beers.
Ingredients are all fresh and even the sauces are made in-house. I was there on a recent morning when they were frying up huge batches of their signature sweet potato chips, which are "straight out of the dirt" as Nate likes to say. And at only 85 kcal per bag, it's OK that they come with every order.
The exceptionally friendly staff is encouraged to learn your name and spell it right. In fact, don't be surprised if they are quick to remember your regular order. This fresh new alternative to conventional fast food is a real positive addition to the neighborhood. Go soon and find out for yourself.
Here is their website: http://www.whatsyourgusto.com/
P.S. Don't say I didn't warn you about those chips!