We appreciate the remarks from of our neighbors about the significant improvements over the past two months at John Howell Memorial Park. This project was based on a matching grant that the Parks Committee successfully submitted to Park Pride that was approved by City of Atlanta Parks Design Committee. The Virginia-Highland Civic Association provided half the funding, and the results are quite visible.
Like Nu Construction (photos below) worked diligently (with guidance from original park landscape architect Peter Frawley of Frawley Associates) to execute and deliver on several key deliverables. In addition to completing the original brick paver pathway from the Barnett eastern entrance to the park to the path exit on Virginia (more than 1,230 square foot of pavers, some of them engraved by donors), Eddie Sumlin and the Like Nu team built a 300-linear foot granite seat wall along Virginia Avenue to tie in with the I-485 hom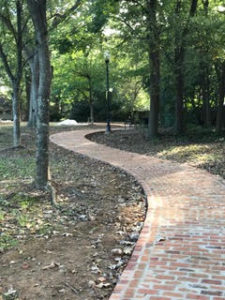 estead markers that represent the homes in that area taken down by the old Georgia Highway Department. Otherwork has included repainting 5 utility electrical boxes and also re-grading multiple non-ADA compliant cement walkways near the Phoenix sculpture to make those both safer and consistent with today's standards.
Six new trees—the park's first pine trees in many years—are in place. Additional landscaping work and perennial plantings have also been installed by Walter Bland of Rock Springs Farm. The plant choices and the installation's design will significantly reduce erosion onto the streets and sidewalks and simplify and reduce the area's routine maintenance.
Submitted by David Brandenberger, President and Parks Committee Chair