When we originally made plans for the Holiday Extravaganza event on December 9 in North Highland Park, we didn't think it would turn out to be an event that featured SNOW! It was unexpected, but it contributed to a truly special day for about 100 residents who came by to take photos with Santa and get into the holiday spirit. Thanks to Stefanie Roberts for organizing this year's event.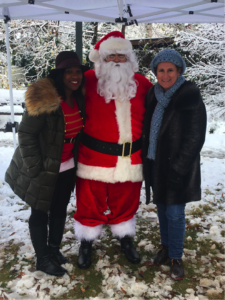 Snow brings out the kid in all of us, so it's not surprising that both the big and small kids that made the trek to the park had a blast playing in the snow. Even their fury friends got in on the fun. All were careful to avoid hitting Santa with snowballs, though. No one wanted to get on the naughty list that close to the big day!
Everyone also enjoyed making ornaments and hanging them on the Christmas tree donated by Barefoot Mountain Trees at Inman Middle School. The neighbors stayed warm by drinking hot apple cider donated by Atkins Park, warm cocoa donated by Ten Thousand Villages, and cookies from Alon's Bakery.
We hope you'll join us next year at what is sure to become an annual favorite!  
Submitted by: Robin Ragland