Preservation and History Committee Mission: Identify, promote and preserve the historic features and defining qualities of The Virginia‑Highland.
If you love history, this neighborhood's got it. Join our committee and learn more about The Virginia‑Highland: [email protected].
Calling All Virginia-Highland History Buffs!
The Virginia-Highland Civic Association Preservation & History Committee formed nearly two years ago and has made great progress.  We're inviting all lovers of history to play an important role: join our committee for starters, and  become the History Champion of your subdivision.
The Virginia-Highland is actually made up of many subdivisions and was primarily developed from the early 1900's through the late 40's. The number of named subdivisions varies depending on which history you look at. The  disparity is often a product of incomplete developments being absorbed (or expanding) into larger subdivisions.
The map shown below gives a rough idea of the key historic subdivisions and the approximate dates of their development. We'd love for our Subdivision History Champions to help us uncover as much history as we can, subdivision by subdivision.  We've learned a lot, but there is much more to know.
We can advise you on the process, scanning specs and best places to look for historic information. The type of history you collect could depend on your own personal curiosity and where it leads you. Oral histories, images, and documents are productive starting points, as are identifying and protecting landmarks, and investigating subdivsion historic designation. The Preservation & History Committee can advise you in all these processes.
The primary subdivisons noted on the map shown below are:
1.      Todd / Liddell Estate – 1904, 1932
2.      Oak Grove / North Highalnd - 1907
3.      Highland View – 1911
4.      Atkins Park – 1912
5.      Realty Mortgage Development - 1913
6.      Adair Park - 1916
7.      Virginia Avenue Subdivision (Collection) - 1916
8.      Virginia Hills – 1921
9.      North Boulevard Park – 1916
10.   Rosewood Park – 1922
11.   F.A. Ames Property / Virginia Highlands - 1922
12.   Kelly - 1924
13.   Cheshire Estate - 1928
14.   Brookridge Park Subdivision – 1935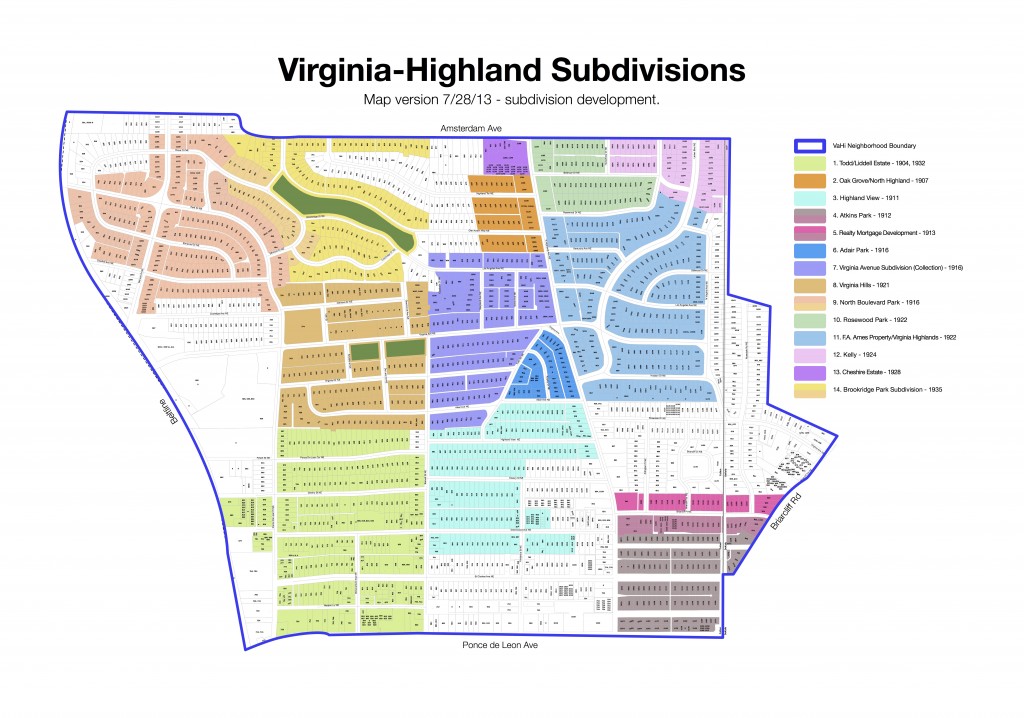 Click on the map image above to view a larger version.
Preservation and History News
Video based upon the book "Images of America: Virginia-Highland" by Karri Hobson-Pape and Lola Carlisle. It was first shown at the 2012 VHCA annual meeting as part of the celebration of the 40th anniversary of the civic association. Once you click the arrow to play, you can then watch it full-screen by clicking the square icon in the bottom right of the video.
Historical development maps
Browse the collection of the Virginia-Highland Historical Development Maps, original plat maps (1890s through 1930s) from your section of Virginia-Highland.
See also our historic maps page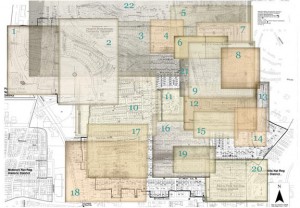 Design Reference for Renovation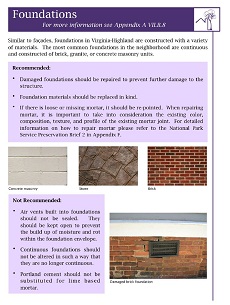 A design reference for renovation of The Virginia-Highland home styles and types was created by students in the Georgia State University Heritage Program. This reference material is provided as an aid and in no way provides enforceable city codes.
Contents include: descriptions of architectural styles (bungalow and 10 others); foundations, materials, doors, windows, roofs, additions, setbacks, massing and scale, appurtenances, landscape strips, sidewalks, walkways, fences, retaining walls, streetscapes... etc.!
Download here (very large PDF file, 26 MB)
History of The Virginia-Highland
National Register of Historic Places - Virginia-Highland's application containing detailed description of architectural styles and contributing buildings. Low-res b/w photos are in this document (17.8 MB, PDF); we plan to upload the original quality color photos in the future.
Virginia-Highland (Images of America) - book by Karri Hobson-Pape and Lola Carlisle
Available online from Amazon, Arcadia Publishers, Barnes & Noble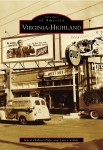 Available locally at
— San Francisco Coffee
— Intown Hardware
— Highland Hardware
— Barnes & Noble @ Emory
Photo Gallery
coming soon
Useful Links
Also see our links to historic maps on our Historic Maps page
Articles of Interest
Todd History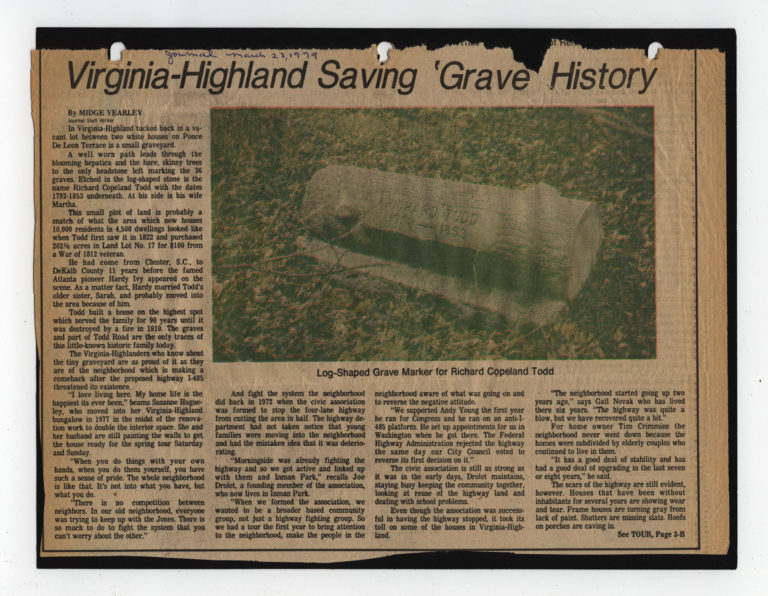 Sign up for emails from the VHCA Preservation & History committee
Drop us a line at [email protected]